Our New Owner
Greetings from sunny Paradise! For those familiar with No Alibi's fishing boat, we would like to introduce the new owner and Captain of the Fishing Charter, Captain Zach Wolfe. Captain Zach is currently booking offshore fishing charters for you and the entire gang. Read this blog to learn more about the new owner of No Alibi Fishing Charters.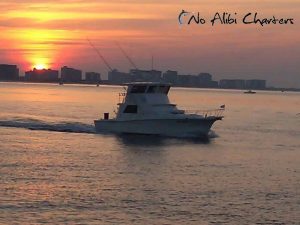 Meet Captain Zach
Captain Zachary Wolfe has over 15 years of experience in the fishing charter industry. Captain Zach was born in Okaloosa County. A true native to the area, he grew up fishing along the Emerald Coast. He has been charter fishing in Destin since 2009, so the local knowledge of where, when, and how to catch fish comes naturally to him.
He works hard to put you on the most prestigious local species, such as Wahoo, Tuna, Sailfish, Red Snapper, Barracuda, Mahi, and anything else biting year-round in the bountiful Destin waters up to 50 miles offshore.
The Captain and his mate are great with kids and families. They enjoy seeing the excitement everyone gets from being on the water and catching fish! Our charter is perfect for all ages. The No Alibi crew invites you to come and enjoy the great fishing Destin offers while capturing some of the best views in our area.
Book A Fishing Charter
Please send us an inquiry on our Booking form if you are ready to book a fishing charter with Captain Zach. Also, get social with the crew by following and liking No Alibi Fishing on Facebook. Finally, remember to check out our deep sea fishing page to learn more about our fishing trips.
We look forward to seeing you at the dock! Please read our future blogs where we talk about our big catches and seasonal fish.