No Alibi Destin Fishing Report Nov. 04, 2016!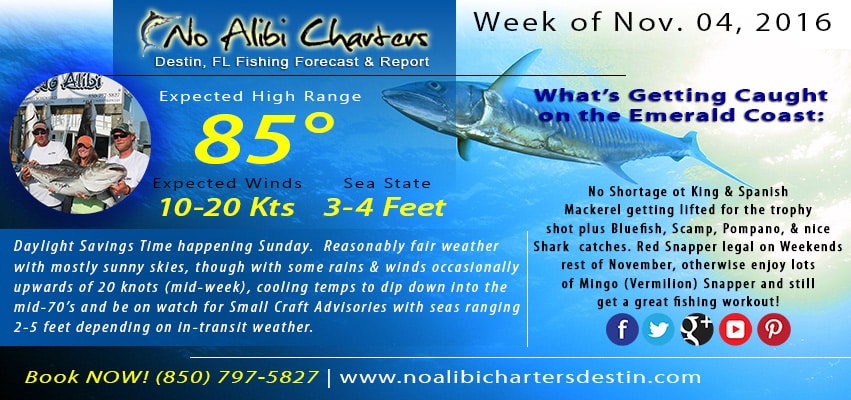 The Destin Fishing Rodeo was a complete success and once again has attracted national attention to the fabulous recreational fishing industry here in Destin. With the arrival of November, local charter boat captains (including NO ALIBI's Cap'n Scho) are getting ready for the big-time cleaning, restoration, maintenance, and administrative duties that get held off during the busy season.
Boat traffic has slowed way down, but anglers are hauling in Spanish & King Mackerel, increasing numbers of Bluefish, Scamp Grouper, plus Reds (Red Drum), the occasional Pompano, & Whiting. Trolling sortes have brought down notable Wahoo and you'll get plenty of forarm soreness hauling in piles of Mingo Snapper. Expect to be pleasantly surprised with even a small bit of focused patience. Expect to get an exercise workout landing Trigger & Red Snapper and you will warm yourself with the memories of the catch as you put those gargantuan trophies back (regulations and whatnot – but see the EXTENDED SNAPPER SEASON note below); also, enjoy landing and wrestling with the occasional, very scrappy Bonito. Less competition means more catches for you, but gradually dropping temperatures demand you review your strategies & gear to make adjustments (consult your Cap'n – he knows these things).
Despite the onset of Fall, Destin FISHING on the whole does NOT stop, and there are plenty of delicious, hard-fighting targets out there waiting for your exclusive attention (and proper strategy).
RECREATIONAL SNAPPER SEASON EXTENDED IN NOVEMBER!
Per the great and wise Amanda at FWC, recreational red snapper season in Gulf state waters will remain open for seven additional days this November. That's right – the glory and adventure is yours to be had NOBEMBER 5 & 6, 11 & 12 (Veteran's Day Weekend – SALUTE!) and the 25th -27th (Thanksgiving Holiday Weekend). For you, this means a few more weeks to slide in under the radar.
Whatever your Destin, Florida fishing charter questions, your 'Make It Hap'n Capn' Chris Schofield is more than happy to answer. Feel free to give us a call at (850)797-5827 or (850) 533-1004.
Destin Fishing Blog, Fishing Forecasts & Reports
No Alibi's 'Make it Hap'n Capn' Schofield & World's Greatest 1st Mate Brian Friend never take you out charter fishing on the Gulf of Mexico without a solid plan of attack for your trip.  We keep close track of the season, what's running, weather conditions, and the latest tactics for landing max amounts and keeper quality.  You can follow our adventures here and use our observations to make your fishing plans!
NO ALIBI DESTIN FISHING CHARTERS – AWARD-WINNING MASTERS OF COBIA ON THE GULF OF MEXICO!
No Alibi's 'Make it Hap'n Capn' Schofield & World's Greatest 1st Mate Brian Friend hit the Gulf with a crack team of eager fishermen to bring home prize money & honors from this years AJ's Spring Cobia Tourney.  Wildly windy conditions and slim pickens the weekend of didn't stop Scho & Co. from making a last-minute 'hail Mary cast' to wrap up a victorious effort.  When you want a prize-winning team to take you fishing in Destin, call the Cap'n who makes it happ'n! (850) 797-5827
CLICK HERE TO RESERVE YOUR TRIP NOW
or just call us directly:


(850) 797-5827
MAKE YOUR DESTIN CHARTER BOAT RESERVATION ON 42 FEET OF OFFSHORE, DEEP SEA FISHING FUN & ADVENTURE!
Welcome to http://noalibichartersdestin.com – Destin Charter Fishing headquarters and home to Destin, Florida's award-winning charter fishing boat 'No Alibi' – 42 feet of epic deep sea fishing excitement on the Gulf of Mexico, Destin Harbor, and Choctawhatchee Bay. Looking to book a charter fishing trip for yourself, family, friends, or your company? Call us now to get started:  (850) 797-5827
No Alibi is an award-winning part of the world-famous Destin charter fishing fleet located at the Harborwalk along Destin Harbor, and we are reknowned for our charter clients bringing home catches that include Red Snapper, Mingo Snapper, Trigger Fish, Drum, Sheepshead, Bonito, Pompano, Amberjack, Mackerel, King Mackerel, Wahoo, Mahi-Mahi, Tuna, Marlin, Cobia, Grouper, Trout, Flounder, Shark, and more!
Captain Chris Schofield is a master sports fishing expert skilled in getting the boat on just the right spots while 1st mate Brian Friend has wide-ranging experience assisting all types of customers from every background and from every region of the United States and knows exactly how to make your fishing trip one to remember for years to come. The No Alibi crew gives you the best fighting chance of landing in-season catches that you'll be proud to display on the board when you get back to the docks.