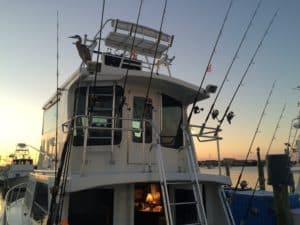 If you're the kind of person who enjoys wet weather, you may have missed what seems like the wettest few weeks we've seen in a long time. For those of us who can't stand sitting in the house for too long, though, this refreshing onset of perfectly golden summer is a godsend, especially with the nice breezes in accompaniment.
So, people are shaking off cabin fever and headed out on the water to do some 'make-up' fishing. No Alibi has been enjoying particularly productive trips with great people (see heroic poses in the image gallery) and Capt'n Scho & 1st Mate Brian are in top form with so many trips being booked.
The end of June and beginning of July are seeing lots of feisty King Mackerel, Red Snapper, Black, White, and Mingo Snapper with plenty of fight in them. We're also enjoying some unexpected Cobia action and shark is doing well.
Heading into the middle of July we're expecting an average of about 88°, breeze 9-12 knots with seas generally no more than four feet. Going into the July 7th weekend there will be an increased chance of rain above 40% at some point, but sky coverage could leave some big breaks in the weather.
Expecting LOTS more Snapper, a good amount of Red and Gag Grouper, plus other opportunities for fishing adventure.
The heat index is high, so everybody needs to be well-protected from UV rays, and if you think a history of easy browning is going to save you from getting sunburn then you should consider that sunlight bouncing off the Gulf Waters adds significantly to the risk, so better to be safe than in pain.
Whatever your Destin, Florida fishing charter questions, your 'Make It Hap'n Capn' Chris Schofield is more than happy to answer. Feel free to give us a call at (850)797-5827 or (850) 533-1004.
June-July Fishing Action – The Taste of Victory…
Let's Grill! Whole Vermillion (Mingo) Snapper by Traeger Grills (Click the Fish to See Recipe).